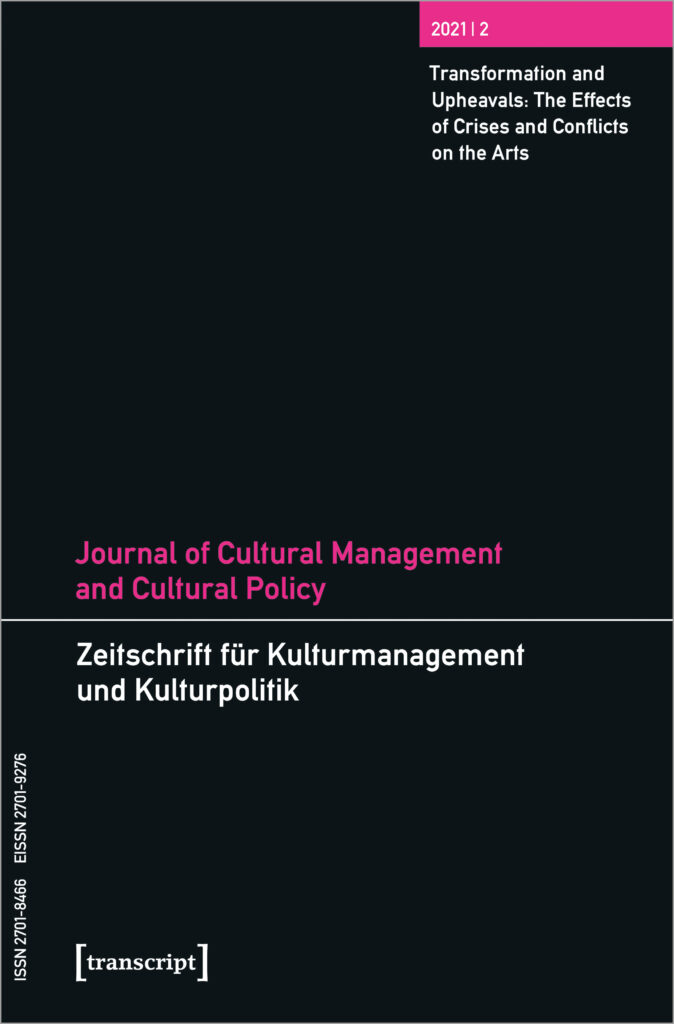 The Journal of Cultural Management and Cultural Policy is dedicated to international perspectives that address a wide range of issues in cultural management and cultural policy research and practice. We invite articles that reflect on organizational structures of creative enterprises, economic and managerial issues in the arts, cultural policy in all its dimensions, as well as creative and aesthetic processes in cultural production, distribution and perception.
Introduction
Transformation and Upheavals: The Effects of Crises and Conflicts on the Arts
This issue looks at the effects political upheavals and processes of social transformation have on the conditions for cultural production, dissemination, education, policy, and management.
The transfer from one political party to another, even when it occurs through legitimate political processes, can mean the difference between funding and lack of funding, restrictive versus liberal policies, or freedom of expression and censorship. The 1989 transformations in eastern and middle Europe are one example among many others. Current upheavals in many countries have major implications for cultural management and politics given that artistic autonomy is at risk or already restricted with the potential to fundamentally reorder the cultural field. The contributors confront and reflect upon instances of political upheaval and social change that have had a pronounced effect on the arts.
Read More
Table of Contents
Journal of Cultural Management and Cultural Policy

doi 10.14361/zkmm-2021-0201

Abstract

The article examines how the promotion of art and culture can contribute to crisis pre- vention and the strengthening of social cohesion, using the example of the Donko ni Maaya project of the Gesellschaft für Internationale Zusammenarbeit (GIZ) in Mali (01-12/2020). The project focuses on the promotion of young cultural actors and Ma- lian youth, who are focused on in their role as "agents of change". The methodological approach is based on 27 qualitative interviews. The result of the analysis is 15 quali- tative indicators that show the impact of arts and culture in terms of five categories: (1) creating alternatives to extremist positions, (2) empowering youth as "agents of change", (3) promoting a positive and active role for youth in countering extremism, (4) strengthening social and political participation, and (5) strengthening social cohesion.

Journal of Cultural Management and Cultural Policy

doi 10.14361/zkmm-2021-0202

Abstract

Political parties in Ghana have been presenting their vision, aims, and policies in their manifestos in recent years. In the run-off to the 2016 general elections in Ghana, political parties launched their manifestos which contained promises covering various economic sectors. In this paper, I critique the 2016 manifestos of the two leading political parties in Ghana, the National Democratic Congress (NDC) and the New Patriotic Party (NPP), towards the creative arts. I employ a qualitative content analysis to examine the parties' cultural policy promises. The findings reveal a mixture of both explicit and implicit policies. Even though these political parties have great promises for the creative arts, they fail to enumerate when and how they are going to implement and finance such promises leaving them, ultimately, unfulfilled. I conclude that governments must give explicit explanations and provide concrete timelines to indicate when and how such political promises will be implemented.

Journal of Cultural Management and Cultural Policy

doi 10.14361/zkmm-2021-0203

Abstract

Following the so-called European refugee crisis in 2014-2015, artists, cultural institutions, and funding bodies initiated and supported numerous arts projects aimed at fostering integration by broadening access to cultural life. The promotion of social cohesion through cultural participation was featured, amongst other topics, in the Swiss political agenda. While some studies have attempted to provide insights into the outcome and impact of such social goals within the arts, little is still known about arts participatory projects from an organizational perspective. This study explores a refugee theater organization and thus aims to offer a deeper understanding of participatory projects and organizations using arts and cultural activities as a medium for social integration. It draws on resource-based thinking in order to explore how such ventures are initiated and sustained by focusing on how tangible and intangible resources are bundled and transformed over time. Our article also reflects on the implications of the study's findings for arts management and cultural policymaking.

Journal of Cultural Management and Cultural Policy

doi 10.14361/zkmm-2021-0204

Abstract

In the context of the post-Yugoslav region, arts and culture organizations in the civil sector are still facing challenges in achieving sustainability, since critique of the dominant system of values is a part of their social engagement. Inadequate financial and organizational conditions for the work of the independent cultural scene are drivers of its engagement in cultural policy and political action, mostly through intensive collaborative platforms and tactical networks that promote the critical function of culture in social production. Based on two different examples of tactical networks, one from Serbia, the other from Croatia, this article detects different uses of strategic essentialism (Gayatri Spivak) as well as these strategies' consequences for the sustainability and resilience of these tactical networks.

Journal of Cultural Management and Cultural Policy

doi 10.14361/zkmm-2021-0205

Abstract

Performing arts organizations (PAOs) need to manage their artistic ambitions in the face of public sector reforms that promote cultural entrepreneurship, the commercializing, and marketization of art. This study uses an institutional logics lens to examine the tensions PAOs experience resulting from this need and their responses to and management of the complexities in their environment. This study draws on a qualitative analysis of nine PAOs in the Netherlands and finds that the main tensions experienced by PAOs stem mainly from stakeholder plurality and the identity of the individual organization. PAOs primarily employ the coping strategies of acquiescence, avoidance, and compromise, which they prioritize over stronger forms of resistance such as defiance and manipulation, and maintain separate logics of operation rather than working towards their synthesis. This leads to a dynamic process model which identifies both a vicious and a virtuous approach to managing tensions.

Journal of Cultural Management and Cultural Policy

doi 10.14361/zkmm-2021-0206

Abstract

This article aims to identify theoretical profiles and empirical evidence that have guided, in recent years, the study of artistic interventions in organizations. Based on 24 case studies carried out by the MacLab (Laboratory for the management of arts and cultures) of the Ca' Foscari University of Venice, and interviews conducted with the protagonists, artists, and companies of these interactions, we have identified art-based models capable of defining how collaboration between art and companies could take place. These theoretical models are compared with the case studies previously explored in order to analyze the impact of and the way in which the arts create a relationship with the corporate sphere. Finally, potential lines of research are outlined that could be useful to define optimal methods of collaboration between the art and business sectors, to strengthen interactions between both, and to ensure an impact on the medium to long-term development of both parties involved.

Journal of Cultural Management and Cultural Policy

doi 10.14361/zkmm-2021-0207

Abstract

The aim of this article is to provide an overview of current studies and contributions from cultural marketing research and, where applicable, to identify topics and approaches that are currently receiving increased attention. For this purpose–analogous to an article published in this journal in 2015 with the same objective (BEKMEIER-FEUERHAHN/ ADAM/OBER-HEILIG 2015)–six relevant academic journals of cul- tural management and the non-profit sector were reviewed (see table 1). Unlike in the 2015 article, the Journal of Cultural Management and Cultural Policy itself was also taken into account as well as the Journal of Arts Management, Law and Society. For the compilation in this con- tribution, articles were selected which relate specifically to marketing issues in the arts sector or have relevance to this field because they deal with problems from the non-profit sector that can be informative for the cultural sector as well. The underlying concept of marketing is broadly defined and includes all measures undertaken to maintain and optimize the external relations of an organization, a project or an artist. Table 1 lists the journals that were taken under review. The review refers to the period April 2020 to July 2021.

Journal of Cultural Management and Cultural Policy

doi 10.14361/zkmm-2021-0208

Journal of Cultural Management and Cultural Policy

doi 10.14361/zkmm-2021-0209

Journal of Cultural Management and Cultural Policy

doi 10.14361/zkmm-2021-0210

Journal of Cultural Management and Cultural Policy

doi 10.14361/zkmm-2021-0211
Call for Papers
Article Archives — Featured Articles
Case Study

Digital Arts and Culture: Transformation or Transgression?


Book Review

PDF Download

Creative Cities off the Beaten Path


Research Article

PDF Download

Die Kunst des Möglichen – Management mit Kunst


Research Article

PDF Download

Evaluation im Kulturbereich II


Research Article

PDF Download

Cultural Management Without Borders


Research Article

PDF Download

Creative Cities off the Beaten Path


Research Article

PDF Download

Die Kunst des Möglichen – Management mit Kunst


Research Article

PDF Download

Die Kunst des Möglichen – Management mit Kunst


Research Article

PDF Download

Die Kunst des Möglichen – Management mit Kunst


Research Article

Digital Arts and Culture: Transformation or Transgression?


Research Article

PDF Download

Theatre – Politics – Management


Research Article

PDF Download

Theatre – Politics – Management


Research Article

PDF Download

Creative Cities off the Beaten Path


Research Article

PDF Download

Museum - Politics - Management


Essay

Digital Arts and Culture: Transformation or Transgression?


Research Article

PDF Download

Kulturmanagement und Kulturpolitik


Book Review

Digital Arts and Culture: Transformation or Transgression?


Research Article

PDF Download

Evaluation im Kulturbereich II

© 2022, Journal of Cultural Management and Cultural Policy