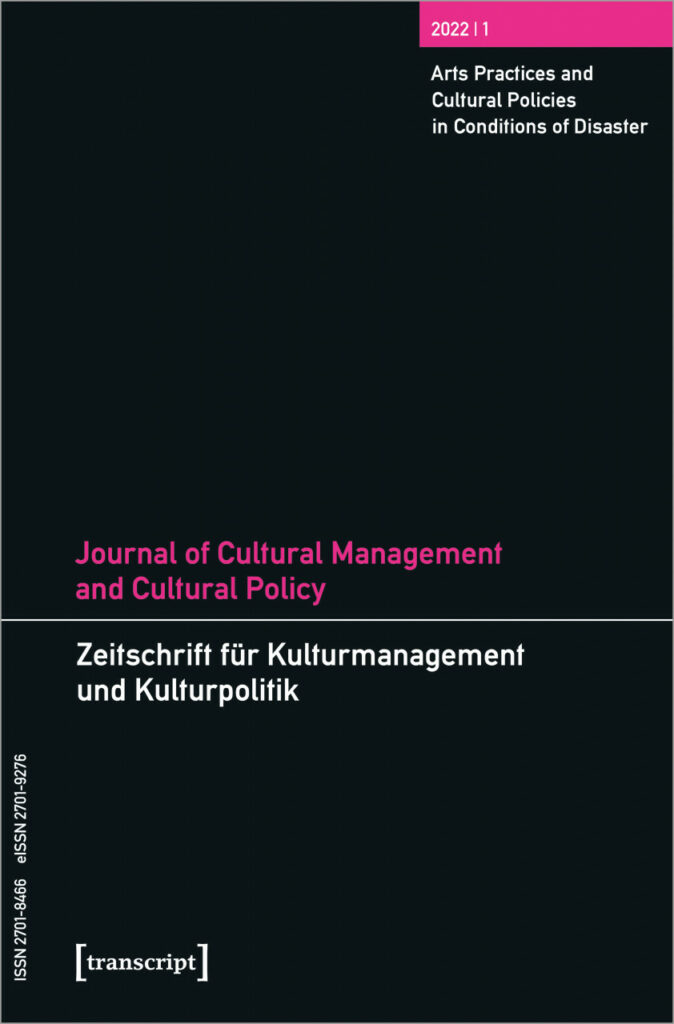 The Journal of Cultural Management and Cultural Policy is dedicated to international perspectives that address a wide range of issues in cultural management and cultural policy research and practice. We invite articles that reflect on organizational structures of creative enterprises, economic and managerial issues in the arts, cultural policy in all its dimensions, as well as creative and aesthetic processes in cultural production, distribution and perception.
Introduction
Arts Practices and Cultural Policies in Conditions of Disaster

This issue focuses on responses to, and long-term changes in the arts and cultural policy fields related to the current climate, health, and economic crises. Contributed articles examine organizational and economic models that allow for continued cultural production and community engagement during times of disaster. How can we learn from instantaneous reactions to crises and from cases of disaster mismanagement, and translate these insights into viable practices? What governmental and institutional policies are needed, in the long run, to secure a diverse artistic and cultural landscape? How do research methods, education, and programming need to change to accommodate conditions of crises? What do policies and practices for a resilient arts and cultural sector look like?
Read More
Table of Contents
Journal of Cultural Management and Cultural Policy

10.14361/zkmm-2022-0101

Abstract

This paper examines how cultural crowdfunding (CCF) was used during the COVID-19 crisis in Japan. Based on the theory of participative turn in cultural management, we find that CCF revitalises culture by bridging the gap between cultural practitioners and citizens. To examine the new dynamics of CCF in Japan, the authors studied a series of emerging CCF campaigns and examined the case of Ohara Museum of Art,
comprehensively. Cultural practitioners strategically used CCF to tap into new groups of supporters and maintain cultural infrastructure that was not fully covered by public funding. This paper concludes that the current emergence of the CCF demonstrates a new form of trusting relationship between cultural practitioners and supporters, in which Japanese citizens use the CCF not only as a tool for transmitting grants, but also as a platform to express their appreciation for local culture.

Journal of Cultural Management and Cultural Policy

doi.org/10.14361/zkmm-2022-0102

Abstract

The Corona crisis had a fundamental impact on the lives of professional musicians. This cross-sectional study is a unique contribution to examining the influence of individual job-related variables and professional group membership on different experiences of the crisis. In addition, actual behaviour is recorded and the findings are supplemented qualitatively. The sample comprises N = 396 persons in Germany, Austria, Switzerland and Luxembourg. The evaluation is carried out by means of structural equation modelling (PLS-SEM) and content analysis. The central findings are that personal dynamic capabilities can reduce the negative effects of the Corona crisis and that a suspected decrease in cultural diversity cannot be confirmed in principle. Approaches strengthening resilience lie in overcoming psychological, financial and methodological barriers and in promoting peer reflection and exchange – not only in times of crisis. The data was collected via online questionnaire in the first year of the Corona crisis in
February 2021.

Journal of Cultural Management and Cultural Policy

10.14361/zkmm-2022-0103

Abstract

Data from a recent survey of cultural managers confirms that, as in most other countries, the COVID-19 pandemic has dealt a hammer blow to the cultural sector in Iceland. The findings show that COVID-19 has had a profound effect on cultural organisations' operations in terms of cancelling or postponing activities and the reduction of contractors or temporary staff. In response, the government has committed unprecedented sums to supporting the cultural sector. We explore how the pandemic and government support has affected the cultural sector in the context of the dominant values and strong welfare orientation of Icelandic cultural policy, as well as how it measures against international trends.

Journal of Cultural Management and Cultural Policy

10.14361/zkmm-2022-0104

Abstract

The impact of rapid climate change presents unprecedented and complex challenges for public leaders and the citizens they serve. For this reason, communities require new solutions in climate disaster mitigation, education, and response. Through the lens of co-creation and co-production theory, this research investigates the emerging role of artists as co-creators of climate change adaptation strategies. We build upon the knowledge that artists are engaged in many dimensions of civic work (homelessness, transportation, inclusion) and that there are benefits to creative practices as a strategy towards building resilience to natural disasters (VAN LOON et al. 2020). Still, the roles, responsibilities, and outcomes of arts-based social change work vary widely depending on the community, scope, and context in which the artist is engaged. We examine representative cases to develop a typology of artist engagement in the context of climate adaptation, with a specific focus on water-related hazards. Our findings suggest a developing role for artists as citizen actors in climate change adaptation, with the unique ability to contribute to awareness and mitigation efforts prior to a climate disaster. This research fills a gap in knowledge and outcomes of artists and governments as co-creators in the realm of climate adaptation and resilience.

Journal of Cultural Management and Cultural Policy

10.14361/zkmm-2019-0105

Abstract

This paper aims to provide a theoretical framework for analyzing the social status of the arts and cultures in the German-speaking countries. The de facto insignificance became visible during the Covid pandemic. In the 1970s, a broad social consensus formed about public funding of artistic and cultural activities in order to achieve social, educational, and democratic policy goals. This consensus disappeared in recent years, and one indication of this is the marginalization of arts and cultures in the political discourse. Referring to different social science theorists (Niklas Luhmann, Pierre Bourdieu, Ulrich Beck, Hartmut Rosa), this article examines sociological interpretations of 'crises' but also addresses the transformative potential of the arts and cultures due to crises. It explores the question of how the arts and cultures can interpret the recent global and comprehensive socio-ecological crises and contribute to finding solutions.

Journal of Cultural Management and Cultural Policy

10.14361/zkmm-2022-0106

Abstract

The war in Ukraine destroyed the hope that, after overcoming the Corona pandemic, we would be able to catch up with the pre-crisis level and expand the significance that culture had gained in the pandemic and its economic management. Culture must respond in and to multiple crises. Since the promotion of culture enjoys constitutional status but continues to be a voluntary self-governing task at the municipal level, thelegalization of cultural promotion laws or sectoral laws is intended to enforce a quasi-obligation of public cultural promotion. In reality, however, these expectations are not being met; instead, cultural federalism is coming under pressure as a result of these efforts at unitarization.

Journal of Cultural Management and Cultural Policy

10.14361/zkmm-2022-0107

Journal of Cultural Management and Cultural Policy

10.14361/zkmm-2022-0108

Abstract

The role museum guards play in the mediation between culture and the public sphere has been neglected in the field of museum studies so far. Embedded in the discussion about change museums need to undergo, this article focuses on tensions in the services expected of museum guards from the perspective of social inequality and institutional theory. Firstly, the guards' role 'in service' of museums is explored in light of the implementation of personnel and visitor concepts; secondly, the guards' positioning in the communication of visitor expectations and 'in service' of the audience is analysed. Thirdly, the paradoxical challenges of these multiple 'servitudes' in the guards' daily work routine is systematized. Our insights are based on multi-method case studies and additional observations in numerous museums. They show that the museum guards' role reveals the conflict between interpretative sovereignty and the rhetoric of participation cultural organizations often make use of.

Journal of Cultural Management and Cultural Policy

10.14361/zkmm-2022-0109

Journal of Cultural Management and Cultural Policy

10.14361/zkmm-2022-0110

Journal of Cultural Management and Cultural Policy

10.14361/zkmm-2022-0111
Call for Papers
Guest Editors: Prof. Dr. Tiago de Oliveira Pinto, UNESCO Chair on Transcultural Music Studies, University of Music FRANZ ...
Submission Deadline: 1 Mar, 2023
Guest Editors: tbd
Submission Deadline: 1 Sep, 2023
Article Archives — Featured Articles
Research Article

PDF Download

Die Kunst des Möglichen – Management mit Kunst


Research Article

PDF Download

Die Kunst des Möglichen – Management mit Kunst


Research Article

PDF Download

Cultural Management Without Borders


Book Review

Digital Arts and Culture: Transformation or Transgression?


Case Study

Digital Arts and Culture: Transformation or Transgression?


Research Article

PDF Download

Creative Cities off the Beaten Path


Research Article

PDF Download

Kulturmanagement und Kulturpolitik


Research Article

PDF Download

Evaluation im Kulturbereich II


Research Article

PDF Download

Museum - Politics - Management


Research Article

PDF Download

Theatre – Politics – Management


Research Article

PDF Download

Theatre – Politics – Management


Book Review

PDF Download

Creative Cities off the Beaten Path


Research Article

PDF Download

Die Kunst des Möglichen – Management mit Kunst


Essay

Digital Arts and Culture: Transformation or Transgression?


Research Article

PDF Download

Creative Cities off the Beaten Path


Research Article

Digital Arts and Culture: Transformation or Transgression?


Research Article

PDF Download

Evaluation im Kulturbereich II


Research Article

PDF Download

Die Kunst des Möglichen – Management mit Kunst

© 2023, Journal of Cultural Management and Cultural Policy