Imprint
Responsible for Content in Accordance with § 10 Section 3 MDStV:
WÜRTH Chair of Cultural Production
Zeppelin University gGmbH
Am Fallenbrunnen 3
88045 Friedrichshafen
Tel.: +49 7541 6009 1313
Fax: +49 7541 6009 1199
E-Mail: martin.troendle@zu.de
Represented by:
Prof. Dr. Martin Tröndle (Editor-in-Chief)
Prof. Dr. Steffen Höhne (Editor-in-Chief)
Constance DeVereaux, PhD (Editor-in-Chief)
The content of this website is protected by copyright. The reproduction of information or data, in particular the use of texts, parts of text or images, may only be carried out in accordance with research citation. Complete texts may not be distributed virtually or in print by anyone other than Transcript Verlag (publisher).
Contributions do not necessarily reflect the opinion of the publisher. The publishers cannot accept any responsibility for the accuracy of information, data, claims, etc. in the articles.
External Links
Our site contains links to external third party websites whose contents we cannot control. Therefore, we cannot assume any liability for this external content. The respective provider or operator of the site is always responsible for the contents of the link. The links were checked for possible legal violations at the time the link was added and no illegal content was not identified at this time. However, it is not reasonable to have permanent content control of links without concrete evidence of a legal violation. We will remove such links immediately upon notification of any infringement.
Introduction
Creative Cities off the Beaten Path
Revisiting the conceptual and theoretical foundations that have informed discourses, research, and cultural policy development on creative cities to date, this issue offers perspectives on creativity off the beaten path. The contributions provide critical reflections on different notions and narratives of creativity, examine the potential and downsides of creativity as a development tool, and integrate perspectives from cities and regions that are often overlooked in the Anglo-Saxon-dominated creativity discourse. Researchers and policymakers who are new to the field of creative cities will gain useful insights into theories and methods on creative city discourse, and those who are already knowledgeable in the field will be provided with fresh ideas and voices that pose the potential to reframe and rethink the role of creativity in theory and practice.
Read More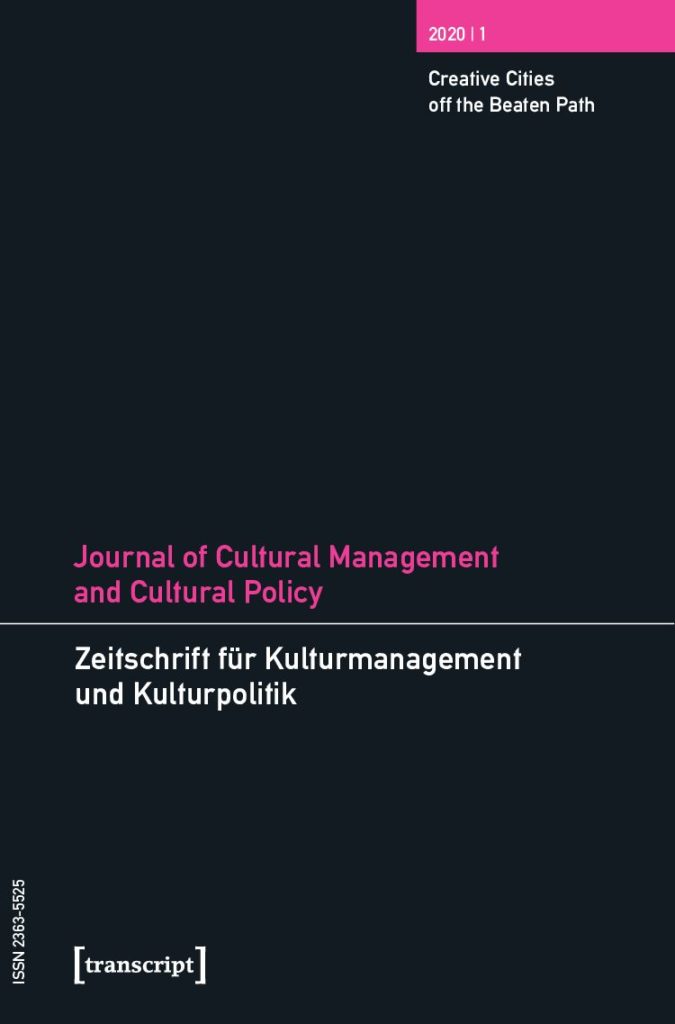 Article Archives — Featured Articles
Research Article

PDF Download

Theories for the Cultural Sector


Essay

Cultural Leadership


Research Article

PDF Download

Die Kunst des Möglichen – Management mit Kunst


Research Article

PDF Download

Cultural Management Without Borders


Research Article

PDF Download

Die Kunst des Möglichen – Management mit Kunst


Research Article

Creative Cities off the Beaten Path


Research Article

PDF Download

Theatre – Politics – Management


Case Study

Creative Cities off the Beaten Path


Research Article

Cultural Leadership


Research Article

PDF Download

Cultural Management Without Borders


Essay

Theatre – Politics – Management


Research Article

Cultural Leadership


Essay

Cultural Leadership


Essay

Theatre – Politics – Management


Case Study

Creative Cities off the Beaten Path


Book Review

Cultural Leadership


Book Review

Creative Cities off the Beaten Path


Book Review

Creative Cities off the Beaten Path


Research Article

PDF Download

Evaluation im Kulturbereich II


Book Review

Cultural Leadership


Research Article

Theatre – Politics – Management


Book Review

Creative Cities off the Beaten Path


Book Review

Creative Cities off the Beaten Path


Case Study

Creative Cities off the Beaten Path


Research Article

PDF Download

Evaluation im Kulturbereich II


Book Review

Creative Cities off the Beaten Path


Research Article

Theatre – Politics – Management


Essay

Cultural Leadership


Research Article

PDF Download

Die Kunst des Möglichen – Management mit Kunst


Book Review

Creative Cities off the Beaten Path


Research Article

PDF Download

Theories for the Cultural Sector


Essay

Creative Cities off the Beaten Path


Research Article

Theatre – Politics – Management


Book Review

Creative Cities off the Beaten Path


Research Article

PDF Download

Die Kunst des Möglichen – Management mit Kunst


Research Article

PDF Download

Research in Culture Managament


Essay

Creative Cities off the Beaten Path


Research Article

PDF Download

Kulturmanagement und Kulturpolitik


Conference Review

Creative Cities off the Beaten Path


Research Article

Theatre – Politics – Management


Book Review

Cultural Leadership


Research Article

PDF Download

Theories for the Cultural Sector


Research Article

Creative Cities off the Beaten Path


Case Study

Creative Cities off the Beaten Path


Book Review

Cultural Leadership


Research Article

PDF Download

Dispositive der Kulturfinanzierung

© 2020, Journal of Cultural Management and Cultural Policy