Research Article
Kulturfinanzierung, Governance und Demokratie
Mehr Partizipation wagen?
PDF Download
Abstract
The question of distributive justice is decisive for the future of public funding for culture. In participatory cultural policy-making, e.g. cultural developmental planning, citizen engagement is threatened to be played out against austerity and politically-calculated, top-down decision making. This contribution takes a mainly theory-based perspective, dealing with advantages and challenges inherent in (local) cultural governance.
Keywords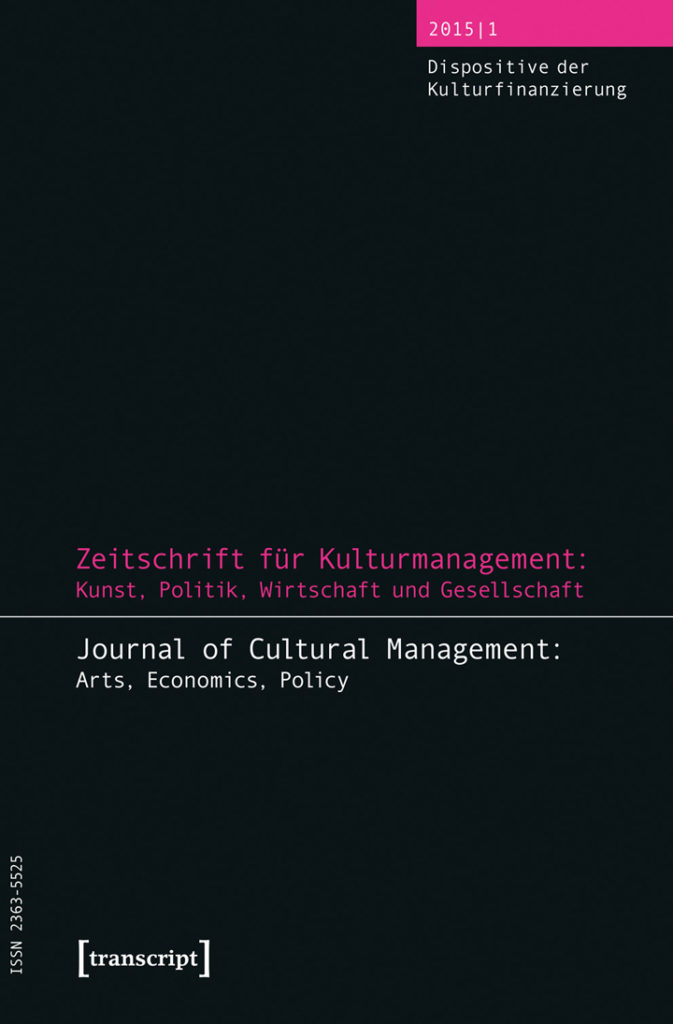 Article Archives — Featured Articles
Research Article

PDF Download

Die Kunst des Möglichen – Management mit Kunst


Research Article

PDF Download

Die Kunst des Möglichen – Management mit Kunst


Research Article

PDF Download

Theatre – Politics – Management


Research Article

PDF Download

Evaluation im Kulturbereich II


Research Article

PDF Download

Creative Cities off the Beaten Path


Research Article

PDF Download

Museum - Politics - Management


Research Article

PDF Download

Creative Cities off the Beaten Path


Research Article

PDF Download

Kulturmanagement und Kulturpolitik


Essay

Digital Arts and Culture: Transformation or Transgression?


Research Article

PDF Download

Cultural Management Without Borders


Book Review

Digital Arts and Culture: Transformation or Transgression?


Research Article

Digital Arts and Culture: Transformation or Transgression?


Research Article

PDF Download

Evaluation im Kulturbereich II


Research Article

PDF Download

Die Kunst des Möglichen – Management mit Kunst


Research Article

PDF Download

Die Kunst des Möglichen – Management mit Kunst


Case Study

Digital Arts and Culture: Transformation or Transgression?


Research Article

PDF Download

Theatre – Politics – Management


Book Review

PDF Download

Creative Cities off the Beaten Path

© 2023, Journal of Cultural Management and Cultural Policy