Research Article
Curatorial Practices of the 'Global': Toward a Decolonial Turn in Museums in Berlin and Hamburg?

"Best Research Article" Award 2020
PDF Download
Abstract
Who decides what is included in the contemporary canon of 'global arts'? This empirical mixed-methods study examines how different notions of the 'global' are curated in so-called 'global' visual arts in two German museums. Decolonial aesthetics, postcolonial thought, and the provenance of exhibition objects have challenged the legitimacy of German museums and have triggered a debate on their Eurocentric perspective, their situatedness, the differentiation between artefact and artwork, and the reproduction of colonial thinking and patterns of domination. Although a critical turn in current curatorial practice can be observed, it is not clear whether this change is the result of a genuine effort to decolonize art organizations. In this regard, the potentials, restrictions and applications of academic concepts such as "anti-racist" or "postcolonial curating" are discussed. This study found indications of a decolonial turn in a predominantly White European curatorial practice and emphasizes the need for further changes to this context.
Keywords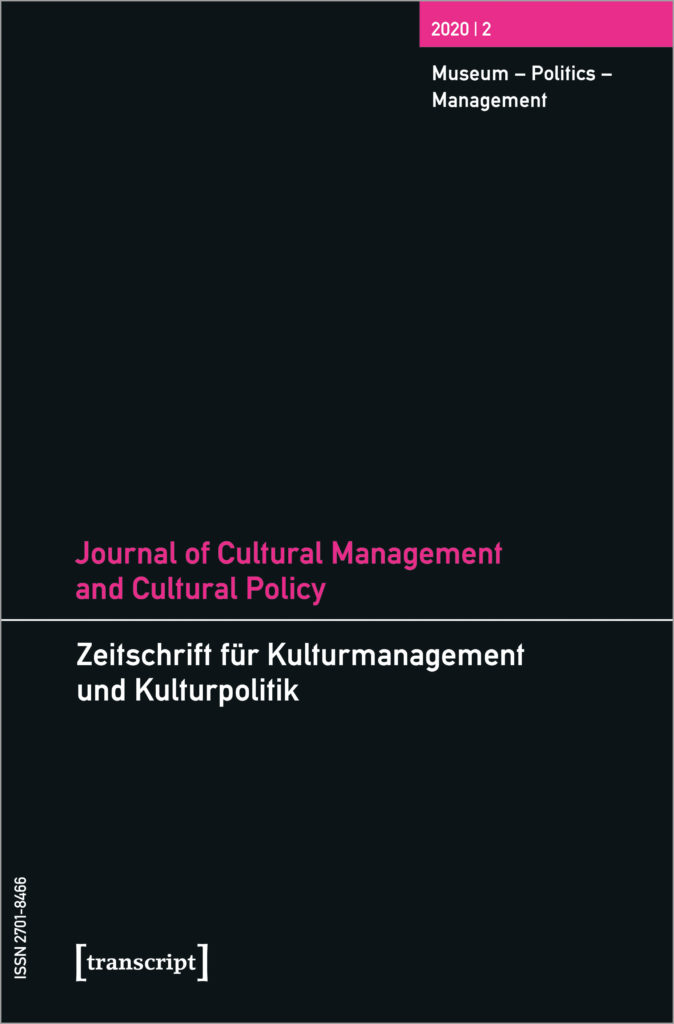 Article Archives — Featured Articles
Essay

Digital Arts and Culture: Transformation or Transgression?


Research Article

PDF Download

Evaluation im Kulturbereich II


Research Article

PDF Download

Die Kunst des Möglichen – Management mit Kunst


Research Article

PDF Download

Museum - Politics - Management


Research Article

PDF Download

Theatre – Politics – Management


Research Article

PDF Download

Die Kunst des Möglichen – Management mit Kunst


Research Article

PDF Download

Die Kunst des Möglichen – Management mit Kunst


Research Article

PDF Download

Cultural Management Without Borders


Research Article

PDF Download

Evaluation im Kulturbereich II


Research Article

PDF Download

Kulturmanagement und Kulturpolitik


Research Article

Digital Arts and Culture: Transformation or Transgression?


Book Review

PDF Download

Creative Cities off the Beaten Path


Research Article

PDF Download

Creative Cities off the Beaten Path


Case Study

Digital Arts and Culture: Transformation or Transgression?


Research Article

PDF Download

Die Kunst des Möglichen – Management mit Kunst


Book Review

Digital Arts and Culture: Transformation or Transgression?


Research Article

PDF Download

Creative Cities off the Beaten Path


Research Article

PDF Download

Theatre – Politics – Management

© 2023, Journal of Cultural Management and Cultural Policy