Research Article
Abstimmungsverhalten im Bundesvision Song Contest

PDF Download
Abstract
The Bundesvision Song Contest (BSC), an annual Germany-wide music competition and television show, offers a unique opportunity to closely analyze not only musical performances but also voting behaviors in national contests.
This paper presents an empirical study that outlines and analyzes voting patterns and biases in the BSC from the first contest in 2005 to 2015. It is generally assumed that the quality of the artistic performance is the key contributing factor for success and therefore for winning the contest. However, a quantitative analysis reveals other factors that explain the victory of a particular German state as well as additional variables that influence the voting behavior of German voters. Moreover, with the help of this empirical analysis, reliable assertions can be made about the relationship between German states.
The key finding of the study is that voting in the BSC is influenced in particular by geographical and cultural affinities.
Keywords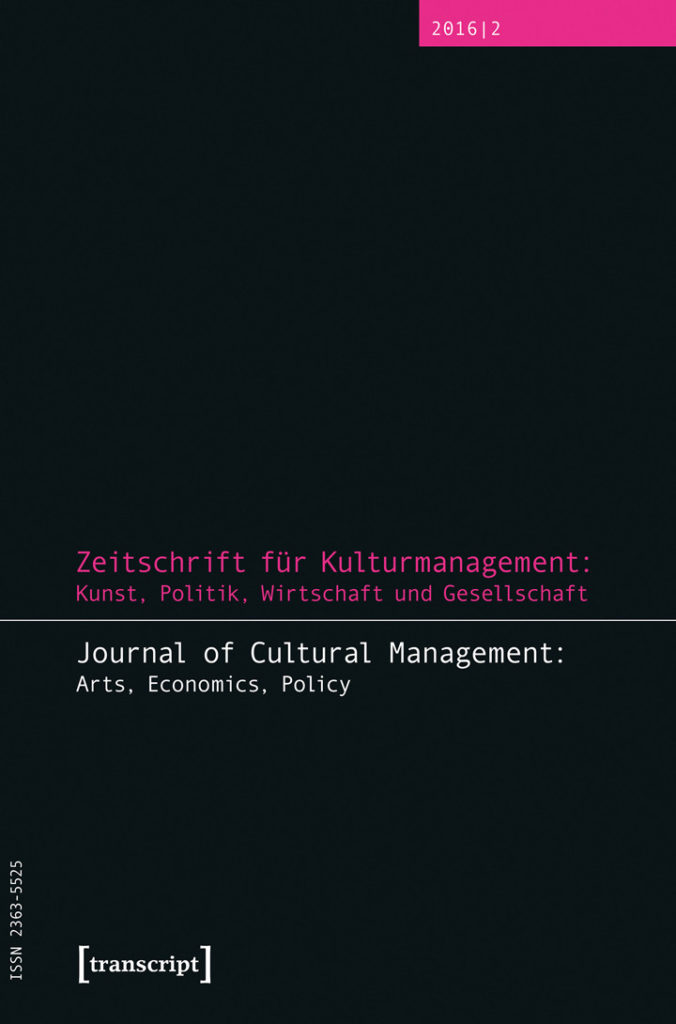 Article Archives — Featured Articles
Research Article

Digital Arts and Culture: Transformation or Transgression?


Research Article

PDF Download

Die Kunst des Möglichen – Management mit Kunst


Research Article

PDF Download

Kulturmanagement und Kulturpolitik


Research Article

PDF Download

Die Kunst des Möglichen – Management mit Kunst


Research Article

PDF Download

Die Kunst des Möglichen – Management mit Kunst


Book Review

Digital Arts and Culture: Transformation or Transgression?


Research Article

PDF Download

Die Kunst des Möglichen – Management mit Kunst


Research Article

PDF Download

Museum - Politics - Management


Research Article

PDF Download

Creative Cities off the Beaten Path


Research Article

PDF Download

Theatre – Politics – Management


Research Article

PDF Download

Creative Cities off the Beaten Path


Research Article

PDF Download

Cultural Management Without Borders


Research Article

PDF Download

Evaluation im Kulturbereich II


Essay

Digital Arts and Culture: Transformation or Transgression?


Book Review

PDF Download

Creative Cities off the Beaten Path


Case Study

Digital Arts and Culture: Transformation or Transgression?


Research Article

PDF Download

Theatre – Politics – Management


Research Article

PDF Download

Evaluation im Kulturbereich II

© 2023, Journal of Cultural Management and Cultural Policy