The Journal of Cultural Management and Cultural Policy is dedicated to international perspectives that address a wide range of issues in cultural management and cultural policy research and practice. We invite articles that reflect on organizational structures of creative enterprises, economic and managerial issues in the arts, cultural policy in all its dimensions, as well as creative and aesthetic processes in cultural production, distribution and perception.
The journal aims to present multifaceted analysis and rich discourse on current issues in cultural management and cultural policy and to promote the development of research designs and methods relating to both new and established practices in these fields. The journal is open to any theoretical and methodological approach, as long as authors adhere to scholarly rigor.
To strengthen the inter- and transdisciplinary character of research in the arts and culture, the journal publishes research articles (6000 to 10.000 words), exploratory essays (about 6.000 words), and case studies (about 4.000 words) from disciplines such as sociology and psychology (of the arts), (cultural) politics, economics, history, cultural theory, philosophy, theatre studies, musicology, and arts education, or the interdisciplinary integration of these.
Research articles must fulfill the highest standards in methodological and theoretical approaches; whereas essays give the opportunity to develop a more personal perspective on topics. Case studies offer insights into particular questions and methods applied in a specific research context.
Reviews of books and conferences (850 to 1.000 words) related to the topic of the special issue complement each issue. Reports of events organized by the authors themselves will not be published.
Submissions
The peer-reviewed journal is published twice a year with a thematic section focusing on a special issue and an open section with contributions on varied topics. Contributions should be clearly written, well-structured, novel and interesting for our audience. Only original, unpublished manuscripts can be submitted.
Submissions are welcome in English or German. Call for papers are published here, for submissions and all inquiries please contact submissions(at)jcmcp(dot)org
History
The Journal of Cultural Management and Cultural Policy was originally established as the peer reviewed Zeitschrift für Kulturmanagement and previously the Jahrbuch Kulturmanagement. Under its new title, it is reaching beyond the German-speaking discourse to include a wider European and international perspective.
Peer Review Policy
To ensure the high quality of our publication, all submitted research articles and essays are reviewed in a double-blind peer review process based on initial editor screening and recommendations of anonymous referees.
Distribution and availability
The Journal of Cultural Management and Cultural Policy is available online and printed by the independent academic publishing house transcript. It is listed in the most important indexes (see here).
ISSN: 2701-8466; EISSN: 2701-9276 (since 2021)
Previous ISSN: 2363-5525; previous EISSN: 2363-5533 (2009-2020)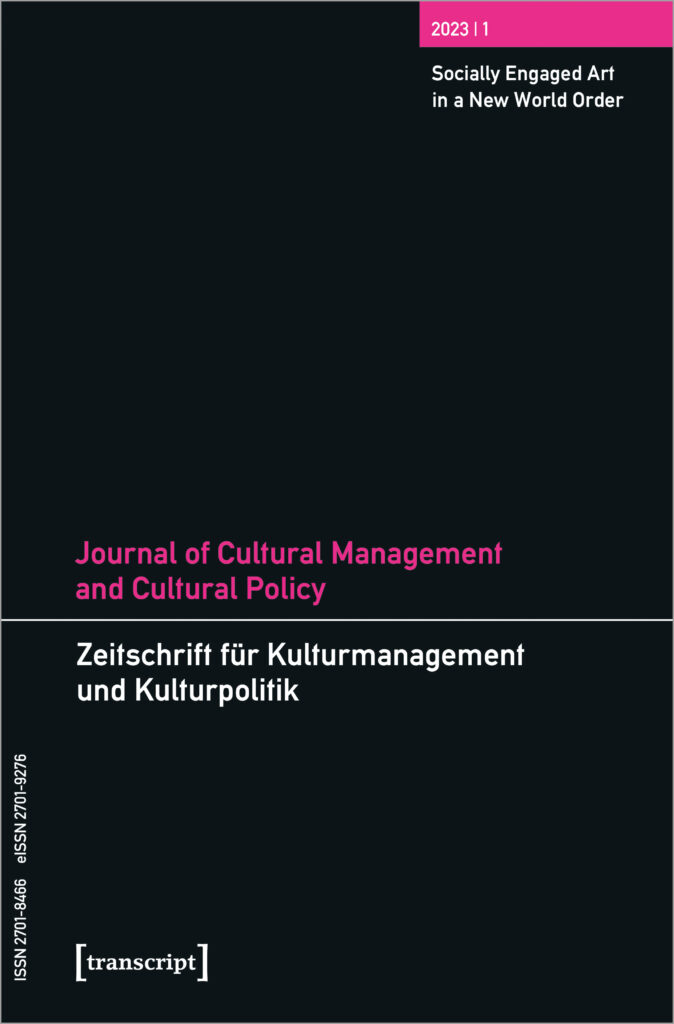 © 2023, Journal of Cultural Management and Cultural Policy